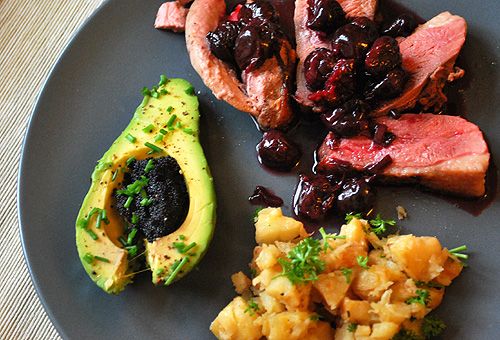 Once again, the Expat Kochen crew united for a fun afternoon of cooking together. Four ladies allowed their creative cooking juices to flow, and the result was a colorful meal paired with delightful conversation. We created a romantic menu full of healthy aphrodisiac ingredients, while an elegant seared duck breast added that extra touch of
special
that any Valentine's Day menu deserves.
Our
Just for Two
menu included the pairings of caviar and avocado, curry and pomegranate, duck with cherries, and chiles with chocolate...browse through the recipes below and try not to drool!
Cooking duck seemed a lofty challenge to many, but proved to be much simpler than anticipated. Our experiments with different cooking techniques taught us to err on the side of rare, which results in a delectably tender and juicy duck with a golden crisp skin.
We also sampled some delicious wines specially chosen to compliment each course: Gewurztraminer, Pinot Noir and Port.
We agreed that everything turned out delicious, was easy to prepare, and all look forward to recreating the special meal with our special someone. Take a moment to browse the recipes and let us know if you have any tips you'd like to share for cooking duck!